Putin said about the need to develop distance education
MOSCOW, 11 Feb-RIA Novosti. , Russian President Vladimir Putin considers it necessary to develop distance education in Russia, make it available at the same time developing modern technology.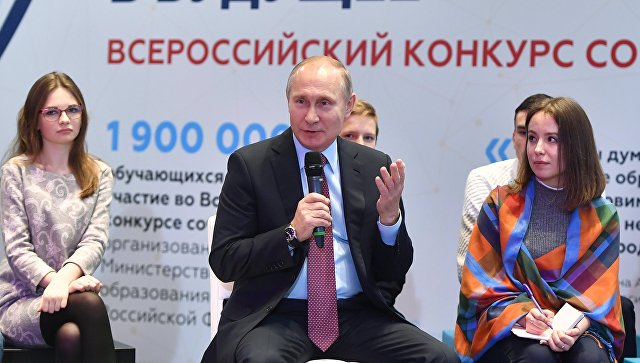 Putin said at meeting with the students-authors of the best essays in nominations "Russia is looking to the future" The all-Russian essay contest, held in the Park "charge", noted that the spread of distance education is very important for such big country, as Russia.
"distance learning have we introduced, implemented widely, more and more… We need to make this education available, develop modern technology," — Putin said.
In a meeting with Putin takes part 34 students who were identified for the results of cultural and educational events, business and communication games organized for 100 authors of the best essays.
"Russia is looking to the future" — especially announced the nomination of the all-Russian competition of compositions 2017. It is open to students in grades 9-11 and secondary vocational educational institutions, said on the official website of the Ministry of education. All members of the nomination in 2017 was 437 thousand students from 60 subjects. The contest at the support of the publishing house "Education" published a collection of works of winners of all-Russian contest "Russia is looking to the future", including 100 of the best works.
Among the works – "Russia – peacemaker", "Lives in the village – Russia lives", "Core me how brochures capital", "to Be necessary to the city, region, country!", "Correspondence tour native Bohodarove 2027".
in the all-Russian essay contest attended 1.9 million students of the 85 subjects of the Russian Federation.


RIA Novosti https://ria.ru/society/20180111/1512449880.html