Sorokoumova Nadezhda Ivanovna.
Sorokoumova Nadezhda Ivanovna, Saint-Petersburg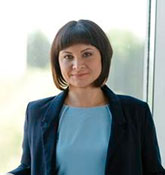 financial Director
Skills

Accounting, management accounting, enterprise Finance
• Budgeting and planning
• Planning and economic management
• Financial management

Confident knowledge of mathematical and statistical tools.
Good skills in assessing the effectiveness of the company and investment projects.
Excellent knowledge of management and accounting, tax legislation, legal
aspects of the financial activities of the company.